(Published September 2, 2020)

Grace & peace,
Thanks for joining us for this month's edition of Wednesday's with Wesley. We hope to keep you up-to-date each month with highlights of the Wesley community. We also hope that you will explore our unique degree options here.
At Wesley, classroom and field learning prepare you for the practice of ministry. You will grow from experience working with local churches, hospitals, and non-profit agencies and receive guidance from faculty and ministry leaders actively working today.
We are proud to be an institution that prepares leaders in the church and the wider community. As the new school year begins, we are excited to welcome you to begin your journey. Apply today for early scholarship consideration and to begin classes this Spring 2021. Explore our endeavors and highlights below to learn more about the Wesley community.
We hope that you are safe during this time. Please contact us if you have questions or desire to discuss your future enrollment.
Blessings,
The Admissions Team at Wesley Theological Seminary
Office of Admissions |Wesley Theological Seminary
4500 Massachusetts Ave NW, Washington, DC, 20016
---
Wesley student and graduate couple walk 125 miles for justice: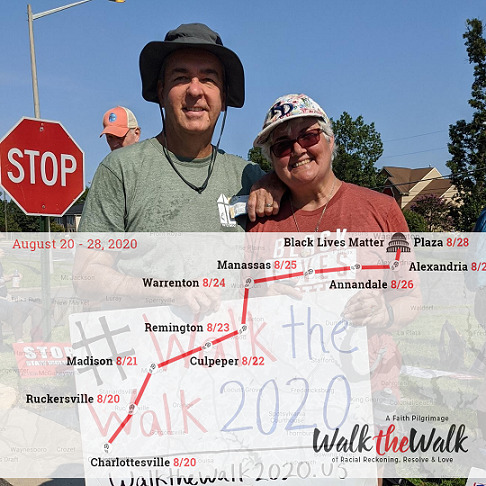 A big shout-out to current MA student Jacki Stranathan and BWCUMC elder the Rev. Dr. Malcolm Stranathan (D.Min. Class of 2019) who decided to not just "talk the talk" for racial justice - they "walked the walk" literally, covering 125 miles by foot from Charlottesville, VA to Washington D.C. as part of the #WalktheWalk 2020 8-day pilgrimage for racial justice, August 20-28,2020.
"This has been a life-changing experience," says Jacki. "I will use the walk in my MA project and pursue a justice framework wherever life leads me." See videos of the walk, photos and more at the official website, https://walkthewalk2020.us
Wesley student pastor Chelsea Spyers (M.Div., anticipated 2021) recently collaborated with Wesley professor Dr. Rick Elgendy to produce a two-part podcast on faith, politics, and civic engagement.
Check it out here:
Again this year, we've asked our amazing faculty what is on their summer reading list.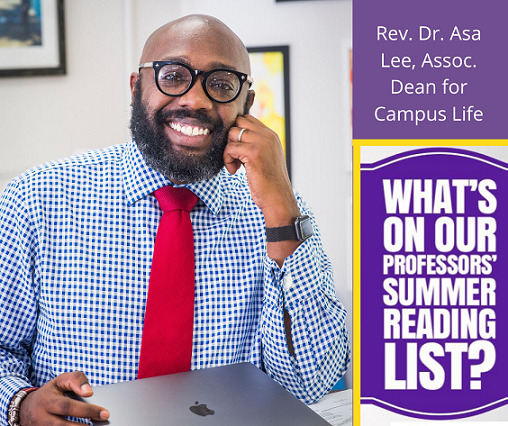 Critically important titles are offered by Wesley's Associate Dean for Campus Life, the Rev. Dr. Asa Lee:
1. "Bearing Witness While Black: African Americans, Smartphones, and the New Protest #Journalism" by Allissa Richardson
A contextual framework for understanding the ways that social media, smartphones, and hashtags have democratized the journalistic endeavors of Black Lives Matter protestors.
2. "'Talking and Testiyfin': The Language of Black America" by Geneva Smitherman Smitherman explains the mechanics and diction of Black English. A well-documented scholarly work , it conveys its text through accessible street talk that embodies the lesson she is teaching.
3. "They Were Her Property: White Women as Slave Owners in the American South" by Stephanie Jones Rodgers A devastatingly accurate portrayal of the truly complex machinations of the American slave trade and the legal, economic, and social structures that supported one of the most tragic chapters of American history.
4. "Black Manhattan" by James Weldon Johnson James Weldon Johnson wrote "Black Manhattan" at the pinnacle of his career as a scholar, artist, and Harlem Renaissance interpreter. Johnson's goal is to provide an interpretive history of the birth of a "Negro metropolis within a metropolis".
5. "American Gods" by Neil Gaiman. The novel that inspired the Starz series popular on streaming, it explores the question of what happens when old world gods meet the 21st centuries divine idols?
6. "Caste: The Origins of our Discontent" by Isabel Wilkerson Sociologist and historian Isabel Wilkerson explores the roots of Western constructs of class in order to provide context for our present struggles in America.
7. "Legbas Crossing: Narratology in the African Atlantic" by Heather Russell This work of literary history explores the tradition of story and meaning in the writings of authors in the African diaspora.

Leading Ideas Talks brings to the table cutting-edge leaders on subjects you care about — navigating change, reaching younger people, financing your ministry, communicating effectively — to help you be the leader God is calling you to be.
Episode 63: "What Promotes Clergy Wellbeing and Why it Matters" featuring Matt Bloom 
How can clergy thrive in ministry? In this episode we speak with Dr. Matt Bloom, Research Professor at Notre Dame's Mendoza College of Business and Principal Investigator for the Wellbeing at Work program, about how clergy can thrive and better cope with the many challenges to their wellbeing.
SAVE THE DATE September 17, 2020: Wesley Theological Seminary's Center for Public Theology will hold a virtual book panel and discussion on White Supremacy and American Christianity featuring:
Dr. Robert Jones, author of "White Too Long:The Legacy of White Supremacy in American Christianity" and Founder, PRRI
Dr. Obery Hendricks, Scholar, Adjunct Professor of Religion, Columbia University
Dr. Kris Norris, author of "Witnessing Whiteness" and Professor at Virginia Theological Seminary and Consultant, Center for Public Theology
Moderator: Dr. Lorena M. Parrish, Director of Wesley's Community Engagement Institute and Wesley Associate Professor of Urban Ministries
UPDATE JUNE 18, 2020: The Wesley Administration decided that all 2020 summer courses will remain online. Fall 2020 courses will be offered in numerous ways to ensure social distancing: (a) classes with registration larger than 20 will be taught online (b) classes with registration under 20 can be taught online with occasional face-to-face classroom meetings with social distancing (the final decision is with the instructor). For all students uncomfortable with coming on campus, all online studies will be available until further notice. The campus is open by appointment only. Contact the department you wish to visit, prior to visiting the campus.

Please pray with us: Oxnam Resources
Within our Oxnam Resources exists a Prayer Wall where you can pray for others and request prayer. Please join us in prayer this and everyday as we seek God for wisdom, comfort, healing, and the blessedness of God's kingdom and will to be done. 
Ready to begin your studies?
Visit our "Try a Class" page or email us to learn how to begin your studies: admissions@wesleyseminary.edu
During this time, we are praying for you and with you. Be safe and healthy, Beloved Community.